Who is Peter
Who is Peter Fogel and why

should I listen to him?


Here's why…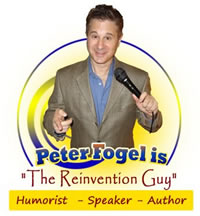 Peter "The Reinvention Guy" Fogel is one of America's funniest comedians that you've never heard of… but have seen countless times on television. From cruise ships, to corporate America, to Las Vegas theaters, he's opened for such stars as Rita Rudner, Jimmy "J.J" Walker and Robert Wuhl (HBO's Arliss).He's also shared the stage or has worked with Jason Bateman, Ed Asner, Shirley Jones, Robin Williams, Harry Anderson, Ray Romano, and Jon Stewart. Peter's also written for such stars as Academy Award nominee Chazz Palminteri (A Bronx Tale, Bullets Over Broadway)
As a studio audience warm-up, Peter's worked on many programs including Whoopi, Hope and Faith, Married with Children, Men Behaving Badly (with Rob Schneider), Unhappily Ever After and The Howie Mandel Show.
As a shameless promoter for corporate America, Peter's also hawked products on TV and radio for such sponsors as Mazda, American Express, and Wisk Detergent. (And, YES, Peter was the Ring Around the Collar Man). His comedy material has been quoted in the Comedy Quote Dictionary (Double Day 1992) and countless other books.
Then IT Happened!
Many years ago, (going through a mid-life crises) and wanting complete control over his life, Peter pulled a 360 and switched careers transforming himself into an in demand promotional copywriter.
And thus "The Reinvention Man" was born.
Today, his clients include multi-million dollar direct response companies, on-line marketing gurus (Strategic Profits, Early to Rise) as well as businesses of all shapes and sizes.
With his hunger to transform people's lives in front of LIVE audiences, Peter took his improvisational comedy, acting, scriptwriting and stand-up background and soon became a sort after expert/speaker earning between $4500-$6500 a presentation.
When he is not writing compelling copy for his clients, "The Reinvention Guy", with his high energy speaking skills, gives keynote speeches on humor, marketing,  and reinvention to corporations and associations across North America and parts of Jersey!
With his proven three decades of in-the-trenches experience, "The Reinvention Guy" teaches entrepreneurs public speaking, copywriting,  and humor writing techniques so they can take their businesses to new heights of profitability.
He is the author of the amazon.com best selling book, "If Not Now… Then When?" Stories and Strategies of People Over 40 Who Have Successfully Reinvented Themselves and the soon-to-be-released, "Reboot Your Career" 27 Ways to Reinvent Yourself in The Workplace.
Peter proudly belongs to the National Speakers Association, Writer's Guild of America and was a member of the famed Warner Bros. Television Writers Comedy Workshop (class of 1999) He's also written for the writing team of Blake and Jackson (Sliders, The Adventures of Lois & Clark) and for Germany's #1 sitcom… their only one…."Rita's World."
Feel free to visit all his websites at: www.peterfogel.com,  www.publicspeaklikeapro.com, http://www.compellingcopynow.com/, http://www.fogelscorporatecomedy.com
For more information on his seminars, speaking engagements, products, and copywriting services, Peter can be reached at peterfogelspeaks@yahoo.com or compellingcopy2005@yahoo.com, or better yet, call him at 561-245-5252. (And don't be surprised that he picks up the phone.)